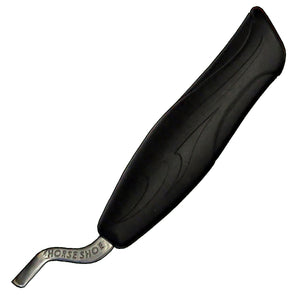 The FK Russell Tool Group- made with the help of Colorado saddle making legend Rusty May. We had to make a injected plastic handle to keep the tool cost down since it is a very difficult handle to make in wood as the original was made. Tool steel shanks, high polished on the working end and a beautiful matte finish on the rest of the tool shank. There are 5 versions of this excellent tool.
PB-Push Beveler makes a beautiful smooth burnished edge on one side of cut.
DB-Double Beveler allowing you to bevel both sides of a swivel cut for instance.
BB- Beader Blade wish leaves a burnished round topped line after it is used
CR1- Creaser #1- creates a burnished edge along an edge- pattern is .09 width
CR2- Creaser #2- creates a burnished edge along an edge- pattern is .120 width